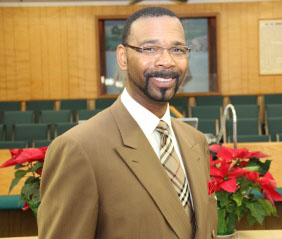 Reverend Don Jose' White became the Sr. Pastor of Jerusalem Baptist Church, Calhoun, Louisiana on April 22, 2012. For the past year, he has led with a commitment to Christ, passion for people and yearning for community transformation. He is a native of Jonesboro, Louisiana.
At the age of five he recognized his desperate need for Christ. He credits the teaching of Reverend E.H. Houston with helping him to solidify his commitment. In May 1997 he accepted the call into the ministry at Kaiser St. Baptist Church in Garland, TX. He developed an insatiable appetite for studying and teaching the Word of God in Sunday School and Bible Study. 
Prior to coming to Jerusalem Baptist Church, Rev. White served as the Minister of the Single's and Mercy Ministries at Mount Hebron Baptist Church in Garland, Texas. He also taught weekly bible study at Mount Hebron Christian Academy.
Pastor White's God –given gifts have provided him with opportunities to lecture, preach and teach in various areas of the United States. He has served as a teacher for D. Edwin Johnson Bible Institute. For the last 12 years he has served as a pre-marital counselor, teaching couples God's plan for marriage.
Reverend White received his Bachelor of Science Degree in Political Science from Louisiana Tech University in Ruston, Louisiana. He is currently enrolled in a Master's of Theology Program at Louisiana College Seminary in Alexandria, Louisiana.
He is married to the former Serrita Marvette Thomas, of Shreveport, Louisiana. They are the proud parents of two children, Don Jose' White II(D.J.) and Danielle LaDon White.
Ministry's Statement of Belief
God is the Creator and Ruler of the universe.  He has eternally existed in three persons:  The Father, The Son, and The Holy Spirit.  These three are co-equal and are one God.
Copyright © 2022. All Rights Reserved. | Privacy Policy
Designed by Kingdom Church Websites, Mansfield, PA 1-800-827-5167.